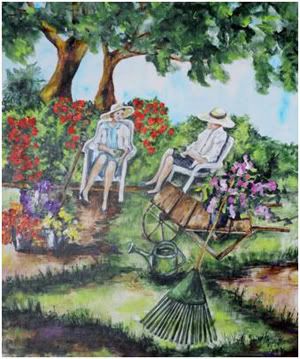 Welcome to the Punta Gorda Garden Club's website. The club was founded in 1949 and federated in 1950. We are members of Florida Federation of Garden Clubs, Inc. District IX; Florida Federation of Garden Clubs, Inc; Deep South Region National Garden Clubs, Inc. and National Garden Clubs, Inc.
Our meetings are held at the First United Methodist Church, Lenox Hall, 507 W. Marion Ave., Punta Gorda, FL, on the third Wednesday of each month with refreshments starting at 1 p.m. followed by a short business meeting and program starting at 1:30 p.m. Membership in PGGC is open to all regardless of gender, age, race, ethnicity or religious affiliation.
The purpose of the club is to promote the beautification and improvement of Punta Gorda and the surrounding areas; to encourage the growing of flowers, plants and shrubbery in public and private places; to cooperate in the conservation of natural resources and to promote education in these areas. Club members have designed and maintain three community gardens.
We support Habitat for Humanity, Educational Concerns Hunger Organization and Charlotte Harbor Environmental Center. Our members are active in a club sponsored program in the elementary schools. We provide scholarships for higher education to graduating seniors at our high schools and provide camperships to elementary youth at FFGC's Camp Wekiva, a nature camp in Apopka, FL.
Cultivating Friends through Gardening
~ Artist Jill Kennedy

The Holly Days Home Tour is our only fundraiser. This year's Home Tour, "A Holly Jolly Christmas" was held November 30 and December 1, 2012. Club members decorated four homes in the Punta Gorda Historic District. Photos can be found on Home Tour Page.
Please enjoy the floral designs on the left by our Master Judges Gloria Freitas-Steindinger, Gladys Hemphill and Virginia Mraz. Please visit our Programs page for our 2012-2013 programs. We hope you will join us at a meeting.

Vinita Handlon, President

Use this link to shop
and FFGC will benefit

©2013 XLerators LLC www.XLerators.com | This site is hosted and maintained by XLerators LLC
Searching for a garden club website? Go to www.FLORAMITY.com for the Web's most comprehensive
Garden Club Directory, gardening forums, and "all things FLORA!"
Visitor counter
Installed 1/15/09
17,129
A few comments regarding our website ...
Put your cursor on all photos. Those in our left and top borders will change to another photo.

Click on photos and most will enlarge so you can view a screen-size version.

Any text that is underlined is a link. Click on the text to open a window showing another website, a map, or other relevant information.